Do you want the best Nvidia Shield Tablet?
We are going to discuss the tablets with the most stunning display. You can't power a good display without a powerful GPU. Therefore, you might find a good tablet with such specs. So without wasting much time, read this list. 
iPad Pro 11 inch 
This is one of the best tablets you can buy at this moment it features Retina Display with a resolution of 2388 x 1668 pixels. The display unit is 11 inches. This device packs a powerful A12X Bionic processor there is no expandable battery, but the internal unit comes in different capacities including 64GB, 256GB, 512GB, and 1TB.  
The rear camera is 12MP, and the front camera is 7MP.  The iPad Pro is expensive, but it's one of the most powerful tablets you can buy.
Samsung Galaxy Tab S4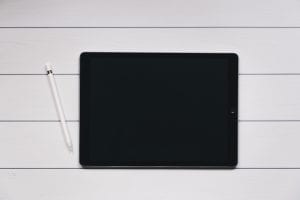 If you don't want to be a part of Apples Ecosystem, then this tablet will work for you. No, it's not one of Nvidia Shield Tablet. It features Snapdragon 835 and 4GB RAM. The resolution is 1600 x 2560 with a 10.5-inch screen. Yes, you can expect the storage with MicroSD. 
The in-built storage is 64GB and 256GB. The battery is a massive 7,300mAh. It can last you two days of use. If you are looking for an android tablet that can compete with iPad Pro, then this tablet is your best bet.
Surface Pro
This is the Windows Tablet that can replace a Windows laptop. It features the latest and greatest from Intel processors. You are getting SSD storage with 8 GB or 16 GB; the storage has several options, you can choose between 128GB, 256GB and 512GB and 1TB. The rear camera is 8MP, and the front camera is 5MP.
With the latest generation you are getting more than 13 hours of battery life, that's pretty impressive, and it gives the Mac Pro a run for their money. If you wanted a premium Windows Tablet, you now have it. Look for the latest generation of Surface Pro. You should know these are not Nvidia Shield Tablet as well. 
Huawei MediaPad M5
We understand that Huawei is in hot waters today, but it has produced some of the finest tablet devices. The MediaPad M5 is not an exception; it is attractive, powerful, reliable, and gives a good value for your money.
It comes in different screen size, 8.4 inches and 10.8 inches. Both these versions are packing the same epic specs, with an incredible screen. The Kirin 960 chipset is powerful enough to handle your needs, with 4GB RAM and expandable storage. The rear camera is 13 MP, and the front camera is 8MP. 
Lenovo Yoga Tab 4
This is an expensive option, but it delivers good value for your money the Yoga range of product never failed to impress us, and this here is no exception the Yoga 4 is not an Nvidia Shield Tablet though, but it packs some awesome features like LTE support, 4GB RAM, and 20 hours of battery life.